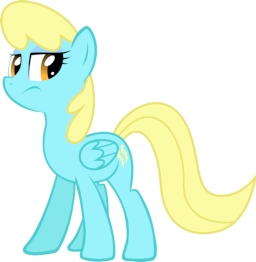 Source
Sassaflash works at the Cloudsdale Weather Factory's electricity division. Her job is very dangerous: she must harness the power of lightning bolts and zap their energy through a machine that draws out even more of that power. Best of all, she has a pretty good position as Electricity Production Supervisor and gets a good 45 bits a day.
But lately, something mysterious has happened at the factory. All of the machines in the electric division have been stolen from another pony. All hooves point to Sassaflash and her five friends Medley, Dizzy Twister, Cloud Kicker, Cloudchaser, and Flitter as the culprits because they all have pretty good positions in the Cloudsdale Weather Factory.
Determined to prove they're wrong and to clear their names, the six pegasi set out on a quest to find the real culprit. However, if they don't hurry up soon, Ponyville and potentially all of Equestria could lose power forever...
Chapters (14)