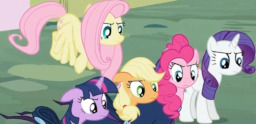 A real hero doesn't brag?
Just because she likes to talk about how awesome she is means Rainbow isn't a hero?
After her friends revealed themselves to her, Rainbow Dash reacts to Applejack's words in a completely different way than what's expected, and things only go downhill from there. Tears will be shed, friendships will be broken, and knives will be twisted as everything that can go wrong WILL.
Chapters (6)