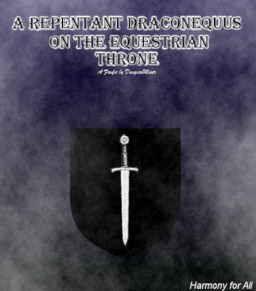 This story is a sequel to A Changeling Queen Under the Griffon's Crown
---
"It's like in the great stories, Mr. Frodo. The ones that really mattered. Full of darkness and danger, they were. And sometimes you didn't want to know the end. Because how could the end be happy?[...] A new day will come."—Samwise Gamgee
Alan Williams Goldenhoof has been there and back again. He saved Equestria, saved an Empire, and even walked up to Death's door, shook his hoof, and then went on his merry way. He is loved in Ponyville, famous in Caterlot, and is considered to be a hero.
And now his heroics are about to end. Perhaps permanently.
With a shadow of arcane evil lurking in the back of his mind, and an old foe on a new battlefield, he has met his match. But no matter what they say, he knows the truth. He knows this guy cannot be trusted.
No matter what they say.
Book 3 of the Harmony for All Trilogy
Chapters (31)