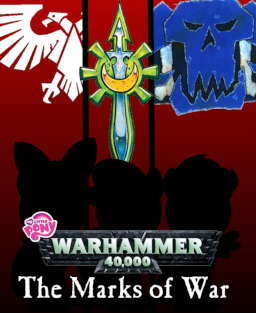 A Warhammer 40k Crossover. Not a brutalization fic. A Brony's First Warhammer fic. Gore will be as light as possible.
In the nightmare future of the 41st millennium, there is only war. There is no hope in a galaxy filled with terror and fear. When three fillies from the magical, peaceful land of Equestria are suddenly thrust into this living nightmare, they must adapt in order to survive. They will sacrifice everything they know and love in order to keep themselves alive.
War will change them.
And the Marks of War will stay with them forever.
"It is not the Horror of War that troubles me but the Unseen Horrors of Peace."—Imperial Thought of the Day
Chapters (32)