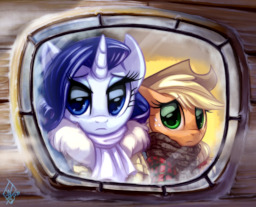 Source
This story is a sequel to The Fruits of Their Labors
---
Rarity always believed that she knew exactly who she was, what she wanted, and exactly how she would obtain it. Then she fell for somepony wholly unexpected: Applejack. When unhappy tidings call Rarity to the frozen North to spend the Hearth's Warming holiday with her relatives, Applejack accompanies her into the family fray.
The ponies arrive in Whinnyapolis at a time of endings, and find that relationships can be fragile things, vulnerable to the cold. Rarity will search her past for the key to her future, but the old house at Maple Cove may not hold all the answers she needs. Perhaps, though, two ponies will learn that there really is no place like home for the holidays.
Cover art provided by the lovely, talented, one-and-only WhiteDiamonds.
Chapters (7)