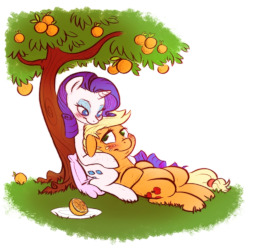 Source
This story is a sequel to The Fires of Friendship
---
Applejack is bitter about her lineage among the wealthy and sophisticated Oranges of Manehattan, who apparently abandoned her simple country family. Rarity is desperate to fit in with the urbane elites of the fashion world, even if it means disparaging and rejecting the Ponyville home she loves. On a trip to the big city for Equestria's famous Fashion Week, Applejack will teach Rarity to be honest and true to herself, and Rarity will show Applejack that a little generosity and forgiveness go a long way. Together, they will learn that each has exactly what the other needs to be complete.
This story is in the same continuity as "The Fires of Friendship," and I suppose it is a sequel of sorts, though there is no need to read that story first. More than anything, this story is birthday present for a dear friend, and a fun celebration of her favorite ship.
The cover art (also a birthday present for our mutual chum) is provided courtesy of superstar art sorcerer WizardWannabe.
Chapters (1)