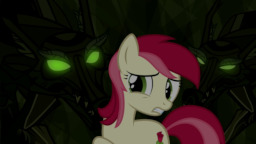 In the deepest corners of the Everfree Forest, shapes move in the dark. Secrets are kept safe under ancient trees, and glowing green eyes herald the doom of anypony foolish enough to seek them out.
Roseluck has no interest in the secrets of the old forest's guardians. She only wants the vital ingredient for healing her sick friend, Lily. But when she and Daisy go in search of it, they find more than they bargained for. The treasures of the deep forest are not undefended, and a war is brewing under the shadows of the trees.
A story of adventure and discovery in a place where nopony has gone before.
Expect new chapters daily, until all five are published. 17,286 words, total.
'Teen' tag is for one brief scene of innuendo.
As always, I adore comments of all kinds, the more specific and prolific the better. Many thanks to my pre-reader: Seeker my editor: Benny, and my proofreader: Soge
Chapters (5)