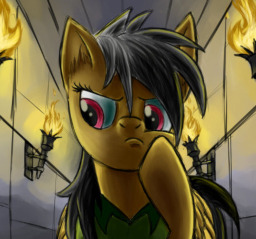 Source
[Interactive] [Comment Driven]
Daring Do sets out to search for a fabled treasure: the Diamond Eye. Before she even arrives, though, disaster strikes. Was it an accident, or is someone else after the mythical gem, or maybe the gem isn't unprotected after all? The only way she can find out is to press onward, but for that, she needs your help.
That's right. Your help. Post comments about what you think Daring Do should do. For each chapter, a comment will be chosen from all the ones given, and Daring Do will do that... for better or for worse. Choose wisely.
For this fic, I'm making an exception to my 'completed fics only' rule, for obvious reasons. This one will be published on a chapter-by-chapter basis, because what happens in a chapter won't be decided until I get the comments from the previous chapter.
Cover image by Ravenous Drake
Chapters (3)