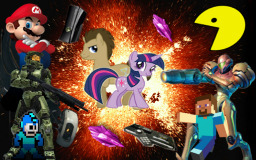 The more you comment the more I will write!
(Press Play, to begin...)
>Play
>Loading...
>Twilight and the Doctor must travel through many dimensions through time and space to save their own. Collecting special magical fragments along the way, they meet some... Interesting characters (Quite literally). This story is based on comments, and suggestions from the fans. Any game you guys ask for that's popular enough, I will write it.
EDIT: Minecraft has been shortened to one chapter.
Chapters (4)