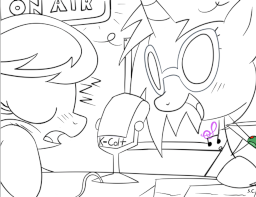 It's back and better then ever!
After weeks of struggling to secure the funds required to continue broadcasting Wub Radio has returned to the airwaves.
Vinyl Scratch and her new talk show friends discuss questions that are submitted to them by their listeners. And things quickly get out of control. After all you never know what those DJs are getting up to.
New chapters will be uploaded on a weekly basis with hopefully at least two chapters per week. All chapters will answer questions submitted in the comments section. All questions must be PG-13 or under. (Nothing Mature)
This is a continuation of Wub Radio by Nexosaur.
Chapters (13)