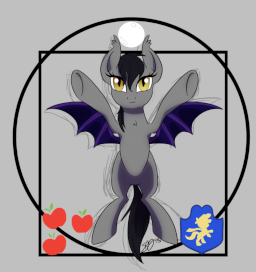 Source
We all dream of beautiful lives.
Shady Blossom need no longer dream; she has everything she ever wanted. Stepmother to Babs Seed and her sister, mother of two foals of her own, aunt to Applejack and Apple Bloom. Her life in Manehattan is all she could have wished for.
When Applejack and the Cutie Mark Crusaders come visit to open up the Manehattan Branch of their club, however, it turns out that the past is not so easily forgotten.
Sometimes, the things that haunt us just won't stay buried.
---
Fourth place winner of the Time and Time Again /fic/ mini-fic competition. Originally, I wrote this over a period of 48 hours. After the end of the contest, I expanded it to better fit my original vision, and to fix its broken ending. Now, it's something I feel I can be amazingly proud of.
Chapters (3)