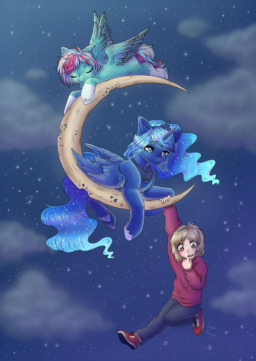 Source
For all that is great and good in her young life in Fillydelphia, Light Breeze is discontent. With loving parents, a bratty but funny older brother, and wonderful friends, she should have been having a wonderful time, but all her life she has been haunted. She dreads sleep, and does everything she can to stay awake, for when her dreams come they are terrible nightmares, as though she's been sucked into some other, horrible world, where she's someone she desperately doesn't want to be. She has never had a truly normal dream or nightmare—what she has is real enough.
Princess Luna, famed guardian of sleep for troubled dreamers the world over, hears of her plight and sets out to help, but what she faces will be more than she bargained for. Will she be able to help the filly overcome her curse, or shall she be drawn into it as well?
---
Cowritten with Solana.
Content Warnings: Mild transphobia, some depictions of parental abuse.
Chapters (15)