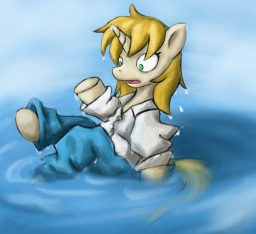 Source
This story is a sequel to Through the Well of Pirene
---
Pirene stretched and emerged from her cave, shaking off the heaviness of her long slumber like a raiment. The fields of her home were saturated in sunlight, and her children played and laughed and sang in the light, their green eyes bright. Of them, one trotted forward to nuzzle at her, her mane thickly curled and black. "Hello, Mother."
"Good morning, Aurora. How are things going with Daphne and her friends?"
"I haven't checked the Well in a bit," she admitted, twitching her tail. "Our umpteenth-great granddaughter is probably in trouble, though."
"Let's have a look, then, shall we? It's been far too long."
With that, the two of them settled near the Well, and watched what visions poured from it, the stories, struggles, sorrows, and triumphs of nine and a half worlds that flowed like water, like imagination.
These are those tales.
Chapters (4)