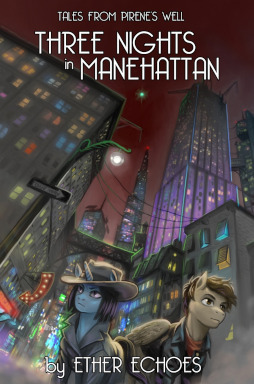 This story is a sequel to Through the Well of Pirene
---
Equestria Daily Post
Hardcopy Available for Order
NOTE: I wrote this before the 2020 BLM protests and my learning more about policing. I would have written it differently after, but I won't be changing it. Just keep in mind that the depiction here is of another world and another species from a different perspective.
In the City of Dreams, the City That Never Sleeps, a wistful heart walks the lonely streets, searching for answers to questions no one else is willing to ask. A reluctant pilgrim arrives from a long journey, weary but determined to make his mark. An old warhorse, his soul cracked and bleeding, saddles up for his last battle.
A noir tale set in Manehattan, fifteen years after the events of Through the Well of Pirene. Three people over the course of three nights weave and unravel a tale of anxiety, pain, and hope under the lights of the greatest city in Equestria, and the watchful gaze of a green star.
Chapters (12)