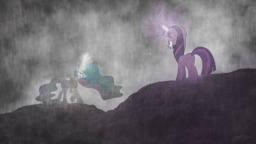 When all you love is lost, and no comfort great enough,
is there ever truly a time to seek death, before you deserve its embrace?
There was such a time for Twilight Sparkle, after her friends all passed away before her.
She was of royal blood, she was meant to have hundreds of years to live.
She did not want them... All Twilight wanted was to have her friends back.
Celestia is forced to come to grips with the true pain of immortality.
After all these years, there was no pony, no student she had grown more attached to than her faithful Twilight.
But Twilight's hoof was forced by the madness of loss, and Celestia's only option was to destroy that which she had raised from a foal, the one she had grown to care for as a daughter.
I know I probably could've added more to this, but I was inspired for only about an hour, and I thought that I reached an acceptable stopping point when my mind stopped producing coherent ideas. I hope you enjoy.
This story was inspired by the song "Fallen Apprentice" by Zykrath,
And the art, "The Fallen Apprentice", by Jamey4 of DeviantART.
Chapters (1)