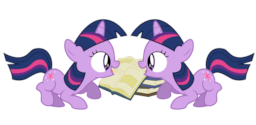 This, this is why I spend so much time in the archives, Twilight thought, holding a dusty old book close in her magic. Inside the book were a number of advanced spells, each one more interesting than the last in some sort of circular logic that Twilight could only assume went to infinity
Twilight galloped through the doors to her tower and leaped onto her favorite reading pillow on the balcony. She opened the book to the table of contents.
Oh my gosh! They're all so interesting! Ooh, an age spell! That…might be a bit beyond me. But here right below it – a duplication spell!
---
Previous Episode: The Brief Reign of Princess Twily
Current Episode: Season Zero – Episode Two
Next Episode: Works Every Time
Chapters (1)