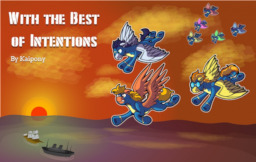 Source
The road to war is a slippery slope. When a group of zebra pirates hijack an Equestrian cargo vessel laden with gemstones and other goods, Princess Celestia sends in the Wonderbolts to rescue the hostages and deal with the situation.
Mistakes are made. Lives are lost. The newspapers report the incident but many of the details are never brought to light. Years later, over a pint of cider, the rest of the story is told.
A tale from the Great War era of Fallout: Equestria.
Edited by: EverFreePony and Light Shine
Cover Art by: Little Tigress (DeviantArt)
Chapters (4)