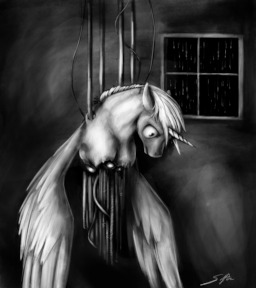 This story is a sequel to The Monster Below
---
*If you'd like to purchase a physical copy of this story, click here*
Two years have passed since Silverspeak's dream to become an Alicorn ended in failure and tragedy. But his efforts to rebuild his life are interrupted when Queen Chrysalis launches an all-out war of espionage, subterfuge, and infiltration on Equestria. With fear and paranoia running rampant, Silverspeak struggles to protect his family, eventually finding a way to end the war – and Chrysalis' threat - forever. But to do so will come at a terrible cost, and Silverspeak is once again forced to make choices no pony should ever have to make, and to decide how far he'll go to protect those he loves...regardless of the consequences.
Cover art by Silfoe.
Edited by:
Night_Shade
JDC
p-a-t-a-r
We were featured on the front page! Thanks to everyone who helped it get there!
Chapters (26)