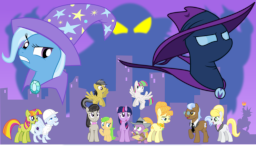 Trixie has never been one to shy away from boasting and ego stroking. It certainly helps when you've suddenly become one of the most important ponies in the world in the span of a single night. But Twilight starts to think things are getting out of hoof for the showmare when she starts hoofing out autographs and getting news columns for things as simple as stopping a runaway baby carriage or fixing a broken carriage wheel.
So she decides to show Trixie what a real hero is like with a little help from her friends. Unfortunately for them, everything will go too according to plan. When a simple scheme to teach a mare about swallowing your pride turns into a race to save a reputation, a friendship, and perhaps an entire city, there's only going to be one question on everypony's mind at the end of the day:
What truly defines a hero?
Story set in the Manehattanverse.
Cover art by punzil504
Chapters (5)