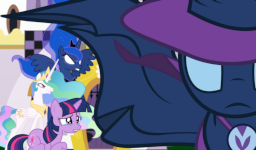 Source
Although Canterlot was saved in the end, there was still damage.
Although they celebrated their victory, there was still loss.
Although they said "sorry", there was still resentment.
But not from the pony you expect.
A rebellion formed outside of Celestia's castle, declaring Twilight Sparkle and Cadance to be their new Princesses after she and Luna failed to protect Canterlot from the Changelings. Leading the rebellion is, to the shock and surprise of Twilight and her friends, the mysterious Mare Do Well, who claims to be the "will of the ponies' voice". After discrediting Celestia, she proceeds to accuse Twilight's friends of "betraying their Element" and has them seized to be interrogated.
With Celestia gone to reflect on the damages she had done, Twilight Sparkle must find a way to restore the denizens of Canterlot's faith in Celestia, save her friends, and disband Mare Do Well's rebellion. However, a question still lingers in her head. A question that Mare Do Well presented to her. Is there a pony in her life that she can't forgive?
Vector Credits:
hawk9mm (Luna)
mihaaaa (Celestia)
uxyd (Twilight)
teiptr (Mare Do Well)
a01421 (Canterlot Castle)
Chapters (6)