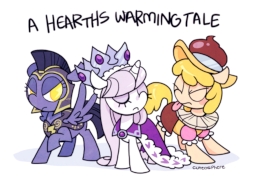 Source
History doesn't stop when the curtains close. Short stories highlighting events taking place in the years after the founding of Equestria are told by the princesses. Holiday cheer does not ensue. These are written as a part of the Titano-verse but are compatible with general canon and do not require any additional reading to enjoy.
Current contents:
"Hurricane's Fall" - Now an audiobook recorded by the way too awesome for words Scribbler.
"Wedding Night Jitters."
"Oracle of the Moon."
May be continued at some future date but it is done for now.
Chapters (3)