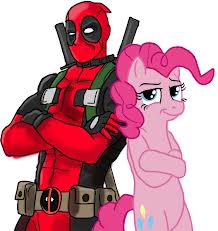 Deadpool randomly comes to Equestria and the ponies try to figure out how to send him back to his world, but two previous villains teaming up to take over Equestria is in the way. So, it's up to Twilight and her friends to stop and defeat them, along with the help of Deadpool.
Anthro tag: Pinkie Pie is the only anthro (Chapter 5) in the story, ...or is she! (Spoilers)
Credit goes to King of Kings for editing chapters 1 through 4.
((Second story to get featured. I'm on a roll. lol))
Chapters (9)