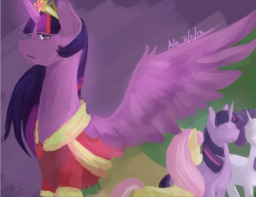 Source
This is the story of seven friends and the years that conspired to keep them apart.
Princess Twilight Sparkle, last and greatest of the Equestrian Princesses, has loved more and lost more than anypony alive. At the end of everything, as she looks back on nearly one thousand years of rule, she remembers all the things she learned from all the people who left her.
This is the story of Princess Twilight Sparkle and how she finally found her way back to the ones she missed more than anything in the world.
*Added to Twilight's Library on 6/28!
Chapters (19)