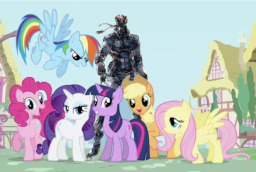 Source
A crossover between the original Metal Gear Solid and My Little Pony: Friendship is Magic.
Whilst facing the legendary psychic Psycho Mantis in Shadow Moses, Solid Snake finds Mantis using a strange psychic power
to seemingly transport him to another universe, completely different from his. What's happened to Mantis? Why are there brightly coloured ponies everywhere? Is this all real, or is it just in Snake's head? And how will Snake get back to Shadow Moses and complete his mission?!
Rated Teen for some mild violence and swearing.
Chapters (18)