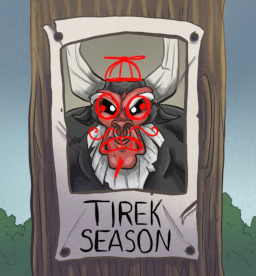 Tirek is a juggernaut. A nonstop bullet train on the fast track to becoming the sole source of magic in Equestria (and it's de facto ruler).
But what happens when this unstoppable force meets an immovable will?
A will that's more than eager to resort to cheap tricks and humiliation tactics to balance the karmic scales?
At that point... it's open season.
Tirek Season.
---
An entry for the Who Crossed Over My Little Pony? contest.
Cover art by the impeccably talented Mutter_Butter.
Special thanks to mushroompone for prereading and feedback.
Chapters (1)