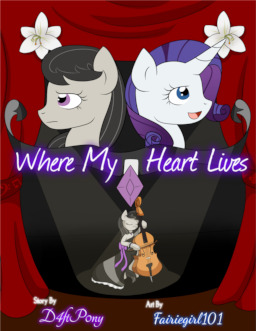 Source
Rarity prides herself on her work, and when letters start pouring in from Canterlot after the Royal Wedding she is overjoyed by the enthusiasm for her dresses. Drawing on her friend Fancy Pants, she is able to set up a temporary shop in Canterlot for one month, where she will do her best to turn out as many dresses and outfits as she possibly can.
She swears to Twilight and her friends that she won't fall for the allure of the big city again, and that Ponyville won't have to go long without her... but once there, she is quickly swept up in the grandeur and glamour of post-Wedding Canterlot. Her clients are rich, prestigious and famous, with clout and influence to burn...
...but it is one mare, a simple gray earth pony, who catches her attention. She doesn't behave like the rest- she is quiet, yet when she speaks she is witty and clever, not dull and droll like the others. She dodges Rarity's questions about her artfully, which only piques the white unicorn's interest and nigh-on forces her to dig deeper into the community to find out about this mysterious mare named Octavia.
But what does she hope to find? Why is she so driven to find out more about the gray earth pony musician... and what will she do with the information she gleans?
Chapters (15)