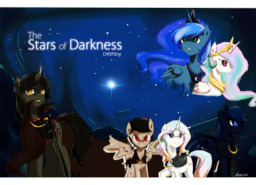 Source
Luna's life since her return to the world has been more than she could have hoped for; her sister welcomed her back with open hooves and has done everything in her power to make Luna happy. On top of that, the Moon Princess has even made some friends in Twilight Sparkle and the ponies from Ponyville. Luna is the happiest she's been in a very long time, and she can't help but hope that her life has seen the end of its trials.
However... not all remnants of the past are willing to stay there.
One night, high in the mountain capital of Canterlot, Princess Luna is confronted by four ponies who all share a very deep connection to her; and the past that Luna thought was buried forever is suddenly unearthed and threatens not only her new life, but also the lives of Twilight Sparkle and her friends, as well as that of Princess Celestia.
Hatred has come to Equestria, and its power may be more than even the magic of Friendship can endure.
Sequel Stories:
"Of Thistles and Honey"
"The Chronicles of Dark Star: A Blade of Redemption"
Chapters (22)