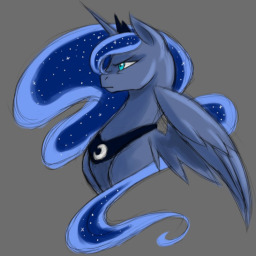 Source
~~~The other day I was thinking about why we haven't seen Trixie since "Boast Busters" and Luna since "Luna Eclipsed", and this is what happened.~~~
Long ago, in the magical land of Equestria, there were two regal Princesses. One, the eldest, was in charge of raising the sun and bringing the day to all the different kinds of ponies. The other, the younger sister, was in charge of raising the moon and bringing the night.
A thousand years ago, the younger sister had been banished from Equestria for refusing to lower the moon and attempting to plunge the land into eternal night. After serving her exile, she returned, and the two sisters tried to resume what they both hoped would be a normal life.
But a year has passed now since the younger sister's return... and promises made to her have not been kept. With one final decision, she seals Equestria's fate for the next one thousand years using magic deeper than any other.
~~Cover image used with permission from artist~~
Chapters (1)