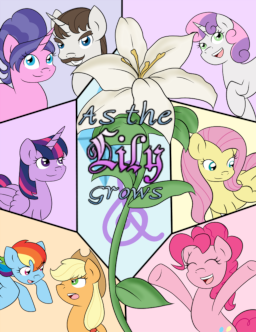 Source
This story is a sequel to Where My Heart Lives
---
Rarity and Octavia have been dating for six months now, taking everything slow and steady just as Rarity promised that they would. Their love has done nothing but grow stronger and stronger, and now more than ever the two of them are certain that they truly do love one another. They're so certain, in fact, that Octavia has proposed taking the next step in their relationship: meeting one another's family and friends... and since most of Octavia's family lives very far away, Rarity's gets top billing.
This does, of course, raise a fair number of questions for Rarity. How will she introduce Octavia to her parents? Will they like her? Will Sweetie Belle like her? How in Equestria is she going to introduce the private and quiet musician to her gaggle of colorful, excitable and unique friends without scaring her off? Will Twilight Sparkle's new status as Princess be a little too intimidating? Will Fluttershy be able to handle the thought of Rarity and Octavia being 'romantic' together? Will Pinkie Pie behave herself even a little?
The more she thinks about it, the more upset her stomach gets... but she knows that it will be worth it in the end.
Chapters (3)