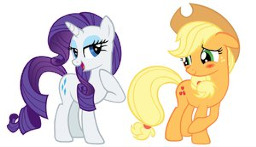 Applejack has had a crush on Rarity for awhile, but she is unsure that the white unicorn shares her feelings, or if she even likes mares. The usually honest farm mare finds herself lacking something she'd never have expected: Courage.
Perhaps the courage of her other friends can help her to work up her own, or will she watch helplessly as Rarity ignores her forever?
POV Characters:
Rarity
Applejack
Other Characters:
Rainbow Dash
Fancy Pants
Fleur Dis Lee
Image vector source: Unknown
You may notice, that the Golden Oaks Library makes an appearance. This is because we know next to nothing about the Friendship Rainbow Kingdom Castle, I will not write about it until Season 5 comes out and we learn how it looks on the inside other than the throne room, or if Twilight will even live there full time. You can assume this story takes place before "Twilight's Kingdom".
I hope you all enjoy this, my first fic centred around any of the Mane 6. Also my first non-comedy.
I know "how they got together" fics are overdone. But as I always say "If it's over done, it's probably good."
As always, someone may have written a highly similar story already, but if so, I have not read it.
Chapters (2)