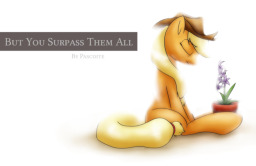 Source
"Strong" is definitely a word that describes the Apples, and their family bonds are one of their biggest strengths. But Applejack will need to show her vulnerable side to get the most out of this day.
With her friends' help and a few cracks in her armor, Applejack is going to make this Mother's Day the best one yet.
Featured on Equestria Daily!
Cover art by Conicer
Thanks to Cassius, Filler, Corejo, Uma, Dublio, and Compendium of Steve for reviews/feedback.
Reading by the incomparable obabscribbler.
Chapters (1)