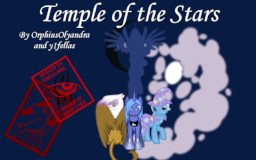 Source
Collab with y1
When Luna reappeared on Nightmare Night, she was no longer the small filly from before. Now an adult mare, she commanded the same respect and presence as that of her sister, Celestia. Many assumed that this was the result of her powers coming back to her naturally, but that was a lie happily perpetrated by both Celestia and the Gryphon Kingdom.
This is the story of Luna as she struggles with the remnants of Nightmare Moon and her forgotten past. The only clue she has is The Temple of the Stars where her small group of worshipers used to gather, which now lies in ruins and in the clutches of the gryphons. Some things were forgotten for a reason and the past always has a way of returning.
These two facts are well known by Gilda. Pulled along for the ride against her will, ghosts of a forgotten past have come crawling back, intent on dragging her back down to a fate worse than death. All the while, she seeks to preserve the innocence of those untouched by war and tries to protect Trixie from the harsh truth beyond Equestria's borders.
One wrong step and war shall erupt. One wrong step and the world will be plunged into a darkness that would rival Discord.
Hope is not a plan.
Chapters (23)