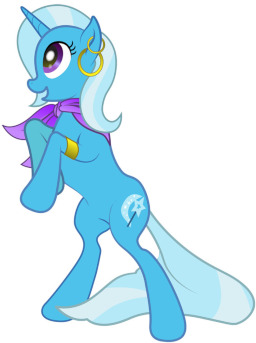 Source
Stories written for the 30 Minute Ponies tumblr. All stories written in 30 minutes or less, with minimal editing.
Also Trixie is the greatest pony who ever lived, therefore all stories are about her.
#218: Autograph
An autograph seeker is dangerously close to Trixie's bad side...
The Prompt: I resolve to preserve self-control.
#220: Trixie's Quest
Trixie strives to become friends with her once-mortal enemy.
The Prompt: I resolve to make the change.
#222: Preparing for Her Big Day
Trixie prepares for a big event in her life - performing in Canterlot!
The Prompt: I resolve to be noticed.
#225: Pitfall
Cloud Kicker saves Trixie from a pit, in a ruined Canterlot.
The Prompt: Two ponies go on a journey.
At least one of the characters must be a canon character whom you have never written before.
#226: Pinkie's Mech
Pinkie Pie and Trixie pilot a mech against the enemies of Equestria!
The Prompt: It came from outer space.
#227: Detective Derpy
Derpy's getting to the bottom of a crime and Pinkie, Golden Harvest, and Trixie are her suspects!
The Prompt: [redacted for spoilers].
#229: Pockets
Trixie heads to the Crystal Empire to get crystals to become the most powerful unicorn.
the prompt: The cold winter air carries the call of wild geese flying south. I long to follow them.
#231: Antediluvian Confession
Trixie has a confession to make.
The Prompts: "Twilight discovers magic of a different nature."/ "Pinkie's parties perk up ponies!" / "Rarity's generosity knows no bounds… even when it should."
#234: Lost in Canterlot
Trixie finds herself separated from her companion in a ruined canterlot. (Follow up to 225, Pitfall)
The Prompt: Phantom faces at the windows. Phantom shadows on the floor. Empty chairs at empty tables …
#243: Astonishing and Spectacular
A bedtime story.
The Prompt: Somepony tells a bedtime story.
#338: Door of the Moon aka Holy Crap It Took Forever For Me To Decide To Write For This Again
A motley crew descends upon an ancient treasure hoard...
The Prompt: "Keep All Princesses Away From This Door"
Special thanks to my friend for suggesting the name "The Trixie Zone".
Chapters (11)