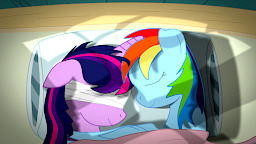 Source
What do you do, after you've made the impossible, possible?
With the Wonderbolt tryouts looming just around the corner and rumors of Spitfire being able to perform the Sonic Rainboom at will, Dash is at wits end. She needs something greater, awesomer, more epic than just a mere Rainboom. After all, to perform that trick a second time would label her a one trick pony and if Spitfire could pull it off, then what was the point?
So what trick could possibly be greater than a Sonic Rainboom?
Chapters (2)