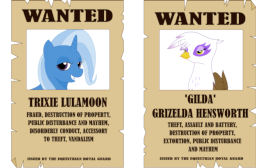 Trixie and Gilda fight together against the world and created the bonds of friendship and much more based on it. This is a story of never judging a book by its cover.
These are wanted posters from things that unintentionally go wrong during the course of the story/comic. Both characters are misunderstood and are the most underrated characters from the shows.
SFG rating of somewhere between [Romantic] & [ Saucy ]
All art shown throughout the story is drawn by Iron Hooves.
Chapters (5)