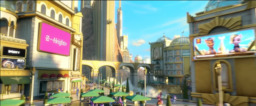 Source
This story is a sequel to New Friends Between Realities
---
Centuries have passed since Twilight Sparkle took the throne of Equestria, and the world has entered a new golden era for all creatures.
But Equestria itself has changed as well. Several independent and fully autonomous city-states now exist within its borders, countries in their own right but still tied to Equestria as a whole.
Today, Princess Twilight is visiting one such city-state for the very first time.
Chapters (4)