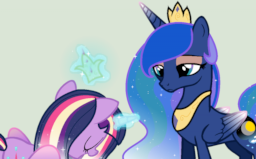 Source
This story is a sequel to Tales From the Crystal Empire
---
In an Equestria much different from what we know, Princess Luna has ruled the young nation fairly for several years now and has recently earned her cutie mark when she raised both the sun and moon together.
Now though, a letter has come from the Crystal Empire, a country that is still little known of. It seems that the reigning monarch's daughter is soon to come of age, and her mother is eager to help establish ties with Equestria.
Now more than a little curious, and also eager to establish ties with a country that is much older than her own, Luna accepts the invitation to the young mare's Royal Crystaling.
But Princess Mi Amore Amicitia is much more than her mother let on. A fact that will shock and surprise Luna when they finally meet.
Chapters (3)