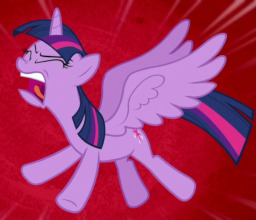 This story is a sequel to Too Late
---
Believing an interdimensional relationship could only go so far, the human Flash Sentry reluctantly turned down Princess Twilight Sparkle's offer to go on a date. However, after an initial heartbreak period, Twilight decided to ask out Flash's pony counterpart. Without the difficulties of an interdimensional relationship to scare him off, surely this Flash would jump at the chance to hook up with Twilight, right?
Well, let's just say Princess Cadance had sunk the ship a few months prior. The Princess of Friendship did not take learning this well.
This may or may not end with a funeral.
Enough is explained in this story to not require reading "Too Late" to understand what's going on. This story does mention only the most relevant parts of "Too Late", so it is recommended to check out "Too Late" if you want to learn more about what happened when, and immediately after, Twilight tried to ask out the human Flash Sentry.
Chapters (1)