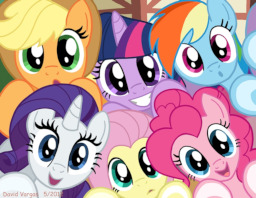 Source
Welcome to Pony Paradise.
A quaint little house.
Each day run by a new hostess, her main focus is to keep you happy.
Cuddles aplenty, snuggles, and even belly rubs!
Boop the snoot and scritch those ears!
An Cuddle A Day, Keeps The Sadness Away!
---
This Story Will Be Updated Daily, But Only For A Month!
Enjoy Spending Time With Your Hostesses!
Monday. Twilight's Quiet Time.

Tuesday. Rainbow's Exercise Routine.

Wednesday. Fluttershy's Animal Cuddle Session.

Thursday. Pinkie's Cooking Class!

Friday. Rarity's Fashion Show!

Saturday. Trixie's Showmare Secrets.

Sunday. Mystery Cuddle Guest!
For Sunday's Secret Pony, Simply Vote In The Comments!
Highest Vote Will Summon The Pony For Sunday!
Chapters (5)