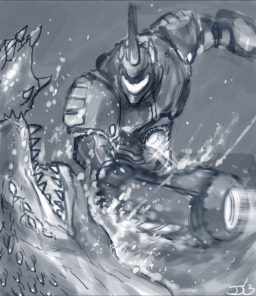 Source
Six years ago, the first kaiju emerged from deep within the ocean and rampaged through sixty square miles of the Pacific Northwest, including the town that used to be my home. In the months that followed, we found out we weren't the only ones to be attacked—across the dimensional divide, our friends in Equestria suffered even more cataclysmic losses than we did. Even after our two species came together, we couldn't stop the beasts from coming, nor could we save any city they chose to destroy. We were at war—and we were losing.
But then, two years after the kaiju war started, billions of dollars and millions of wasted lives later, we figured out how to get back on top. We fought back. We started winning. And it was all thanks to six teenage girls, a little bit of magic, and their technicolor talking pony clones.
Okay, yeah, I should clarify: there was a lot of magic involved.
===
A Pacific Rim crossover several years in the making, first published in my printed anthology The Voices Are Telling Me to Hug You.
Chapters (4)