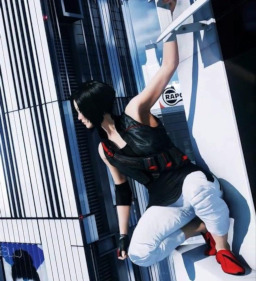 *REWRITE IN PROGRESS*
A year after rescuing her sister from being jailed for a crime she didn't commit, Faith Connors must now take on the next difficult task of clearing her sister's name. But however difficult the task may be, things are about to get stranger with the sudden arrival of someone, or rather, somepony new.
Rainbow Dash, fastest flyer in Equestria and the bearer of the Element of Loyalty, finds herself lost and confused in the city after a freak accident. With no way back home, she teams up with Faith and the Runners in hopes that they'll help her find a way back home.
But however strange Rainbow's arrival might be, things get serious when a conspiracy that threatens the entire city is revealed within the government, and it is up to Faith and Rainbow Dash to put a stop to it. Whatever the outcome may be, change is coming, and the city will never be the same again.
Rated Teen for language and violence.
Chapters (2)