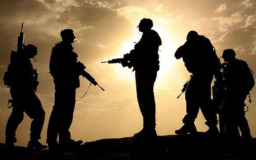 A soldier awakes after an attack on his team and when he does, he finds he is no longer on the battlefield, but in a strange new world: Equestria - To find that he is not the only one that arrived out of his squad.
Whatever will they do?
5/12/13 = The story has been updated and finished completely. The last chapter had been extended, as there was no point adding another, like it says in the last chapter, there will be a second part to it.
The sequel will be coming out eventually, but it will be more intense and more tension will be added, along with more guts and glory!
The new story is expected to be out during some point nearing the end of 2013 and continuing on throughout 2014 from January.
Hope you all enjoyed this book so far! Thanks for the support and acknowledgement everyone! Just wait until you read the second part. - You may be in for a few tears and unsuspected fandom.
Chapters (14)