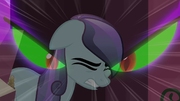 Source
This story follows Luna's Gift, but it can also stand alone nicely.
---
You know his name.
You know when he lived.
You even know when he died.
Your parents warned you, when you were foals, that if you weren't good he would come for you.
They may have been right.
(Chronology note: this tale takes place before the series begins, and before the exile of Princess Luna.)
(This timeline continues in After Moonfall. )
Part of the Elsequestria Continuity and the Sunset Rising Continuity.
(Inspired in part by Fall of the Crystal Empire, most specifically by Zedrin's performance as Sombra.)
Addendum: On February 07, 2019, this became my first story to be in the featured box! Thank you all so much, you are all beautiful!
Additional addendum: I am marking this tale as 'completed' for now, in honour of its ability to stand alone. However, I may add chapters in the future when inspiration strikes.
Chapters (1)