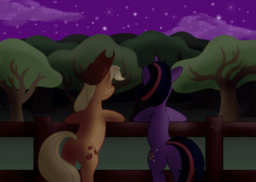 Source
This story follows Bridges and Guides, but it can also stand alone nicely.
---
After their first Grand Galloping Gala, Applejack and Twilight talk about the Blueblood disaster, and about Rarity's expectations for a partner. The discussion meanders into new territory, and gets a little personal for both of them. Initially written as just a fun little one-shot.
(Chronology note: this story takes place between seasons one and two, just after the season one finale.)
Artwork by Sixes_and_Sevens. Please check out their excellent artwork and stories.
Part of the Elsequestria Continuity.
This continuity continues in In Vino Veritas. Its beginning can be found here.
Please check out Sparrow 9642's reading of this tale for Pride Month 2020 here.
Please check out Agent Fluffy's reading of this tale for Pride Month 2021 here.
Sparrow's version uses a team of talented voice actors, while Agent handles both voices and narration alone! All of them do a wonderful job bringing my little tale to life, each version offering a slightly different interpretation. I recommend them both very highly.


Also, my most humble apologies to Sparrow 9642 for forgetting to place a link to their performance for so long. I am a very meek and penitent Coyote and offer no excuse.
Chapters (1)