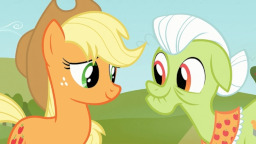 Source
This story follows Murder at the Rarity Boutique and features a character from Bridges and Guides, but it can also stand alone nicely.
---
The Jamboree is an ancient tradition, and the Apples are one of the few families who still maintain it. But one year, a stranger appears with a silver-strung guitar who also remembers the old ways… as well as histories behind some of the songs that even Granny Smith and Princess Twilight don't know. Inspired by Magpie Pony's Son of Princess Luna video.
(Chronology note: this story takes place during season six, after that years' Nightmare Night.)
It continues in Jamboree Aftermath.
(Content note: contains conversational references to violence and murder.)
Chapters (3)