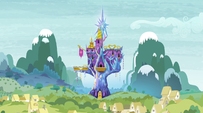 Source
This story is a sequel to Twilight Sparkle Was Shot
---
She tried to murder Sunset Shimmer. Instead, she shot Twilight Sparkle.
Now she is in Equestria.
It's one thing to journey to the magical realm of your dreams.
It is quite another to wake up there, in a new body.
It is a third to realize you may not be able to stay.
(Chronology Note: this story takes place between seasons Four and Five.)
This timeline continues in When All of Your Wishes Are Granted.
Part of the Sunset Rising continuity.
Chapters (1)