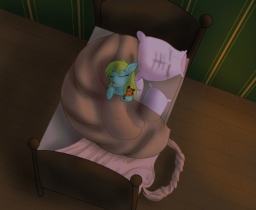 Source
This story follows No One for the Gallows But Me, but it also stands alone nicely.
---
Long ago, Princess Luna formed a son from her own mystical essence, named Jack. She also, in what was to become the custom of new Equestrian parents, made him a tiny stuffed animal.
Since then, Equestrians have made a wide variety of stuffed toys for their children. Being ponies, very few have ever made toy predators.
Which is ironic, since Princess Luna made for her son... a tiger.
This is his story. Or at least, a story about a few of the lives he touched. And yes, some of the chapters are quite small. But then, he was a very small tiger.
---
Artwork by Sixes_and_Sevens. Please check out their excellent artwork and stories.
Jack also has his own story, Moon Childe.
(Chronology Note: Chapter Seven takes place at the end of Season Six, between the stories to either side of this one. The epilogue takes place, well, quite some time after that.)
This continuity continues in The Last Changeling War.
And, of course, the seminal story that starts it all begins here.
Part of the Sunset Rising Continuity.
Chapters (8)