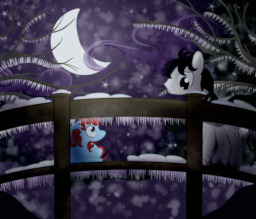 Source
This story follows Cadence of the Crystal Empire, but it can also stand alone nicely.
---
Winter nights are too cold for a filly to be lost and alone. She stays on the bridge, hoping somepony will come by.
When the strange stallion agrees to take her home, at first she feels hopeful... until she realizes where he has taken her.
Never has she been so afraid.
Part of the Elsequestria Continuity.
(Chronology Note: this tale takes place before the series begins. This chronology continues with 'Twilight Doesn't,' while John's own story continues in 'The Apple Jamboree.')
(Content note: like almost all my stories, I strove to make this uplifting regardless of the tags. I leave it to you to determine if I succeeded.)
Artwork by Sixes_and_Sevens. Please check out their excellent artwork and stories.
Chapters (1)