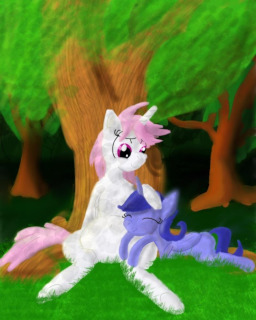 Source
Before recorded history, there was the Age of Chaos, when Discord ruled the world.
And in this age, there were two sisters.
The elder, a unicorn, possessed unprecedented refined senses and magical might. The younger sister was a pegasus, with insight beyond her years and the strange gift of walking through shadow and dream.
One day, they would be alicorns. Ponies and other intelligent beings would debate over whether they were goddesses.
But first, before anything else, they were children.
This is their story.
First Story of the Elsequestria Continuity and the Sunset Rising Continuity.
Artwork by Sixes_and_Sevens. Please check out their excellent artwork and stories.
(Note: during the Age of Chaos, time was soft and most attempts of marking its passage were meaningless. The titles of the first four chapters refer to the sisters' approximate stages of physical development.)
This chronology continues in Luna's Gift.
Chapters (6)