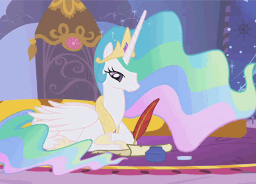 Source
In the twining of divergent universes, this tale is a point where the two
Sister Timelines share a common fanfic.
In the Elsequestria timeline, this story follows In Vino Veritas.
In Sunset Rising, this story follows Moon Childe.
However, it also stands alone quite nicely.
---
Celestia is well aware that her treatment of Twilight Sparkle at the royal wedding left something to be desired.
The Sun Princess has therefore determined that an apology is the very least of what she owes. It is certainly a place to start. But... how does she even begin? For the first time in untold ages, she finds that she doesn't know what to say.
Luna has a suggestion. And, dubiously at first, Celestia begins to put pen to parchment.
---
This story takes place a few days after A Canterlot Wedding, between Seasons Two and Three.
The Elsequestria timeline continues from here with Equestria Mares: Princess Celestia's Secret Apprentice.
The Sunset Rising timeline continues from here with Twilight Sparkle Was Shot.
And, of course, the seminal story that starts it all begins here.
Chapters (1)