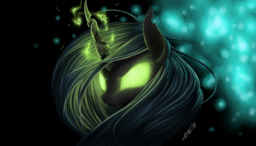 Source
This tale is a sequel to If You Would Friend a Tiger. However, it also leans on the lore of its timeline more than most of my stories. I therefore recommend that readers at least be familiar with Cadence of the Crystal Empire, Twilight Sparkle Was Shot, and When All Your Wishes are Granted. The story also refers to A Canterlot Wedding from the television series.
---
Years ago, she was defeated at a royal wedding by the ponies of Equestria.
Before that, she was both destroyed and brought into being by a young pegasus named Cadence.
And centuries before her birth, the Two Sisters and their precious Elements...
Feh.
Princesses. Bearers of Elements. Nobility, all. And all of them so secure in their pathetic, sadistic victories over her.
Over. And over. And over again.
But this time, things will be different.
This time, behold her greatest plan. Her final ambition. Her most magnificent failure. Victory is irrelevant; her enemies' deaths are all she requires, broken and in agony.
With her madness fully unleashed, Queen Chrysalis begins The Last Changeling War.
---
Cover art by Zig-Word on DeviantArt.
---
And, of course, the seminal story that starts it all begins here.
Part of the Sunset Rising Continuity.
Chapters (7)