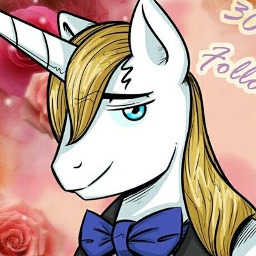 Source
This story follows How About Because I Love You, but also stands on its own.
---
It was hardly a mystery that Rarity was innocent of murder. And, for Prince Blueblood, the true identity of the culprit was also easily surmised.
But the evidence against Rarity was compelling. Compelling enough, in fact, that a case would have to be built against the true murderer for Rarity to go free. The problem was that Blueblood had no idea how they'd done it, or even why.
With time running out, and both their lives on the line, Blueblood must find the true solution to the murder of Filthy Rich. For if he fails, his aunts will have no choice but to pass sentence upon one of their dearest friends… and upon him, as well.
---
Chronological note: this story takes place towards the end of Season Five, a bit over two years after Rarity and Prince Blueblood first met at the Grand Galloping Gala.
Comments note: by the very nature of the story, a lot of the comments discussing its unfolding plot contain potential spoilers. Some have been masked, some have not. Please be advised.
(This timeline continues in The Apple Jamboree.)
Chapters (24)